Wanna see yerself? Check out these pix of our gigs...you might be in 'em!
the wounded's Facebook Page


Promote Your Page Too
Gary em-"barks" on his solo career...check it out!! Click here
See our latest promo video!!..

(click)
THe WouNDeD is a four-piece classic & modern rock & roll combo based in Southern Ontario, playing all your favourite cover songs, and maybe some of your not-so-favourite. They have developed a large and faithful fan base, which includes their mothers and Irene the Cat Lady from PiNe Street.
(Scroll around and have some fun...)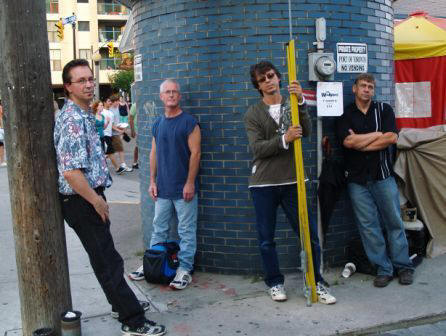 Listen to samples of THe WouNDeD's latest CD release..."Good Songs Gone Bad"...
...But don't let this stuff turn you off...THe WouNDeD plays this and way more better stuff live!
The Good Ol' McGibRock...Oscar's iN BramptoN...THe St. George TaverN...check the CaleNDar...How about some WouNDeD swag??...T-shirts, coffee mugs, get 'em right here!!!!...
What's holDiNg you back???
Coming to a theatre near you!! Check out THe WouNDeD's upcomiNg gigs!!